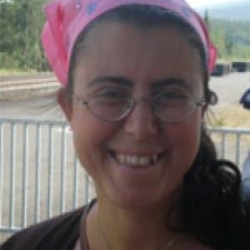 Burcu Akan Ellis
Professor and Chair
B.A in International Relations
Phone: (415) 405-2694
Email: bellis@sfsu.edu
Location: Humanities Building, Room 246
Burcu Akan Ellis is a Professor of International Relations. She received her Ph.D. in International Relations from American University's School of Inernational Service (2001) and holds a B.A. in International Relations from Bilkent University in Ankara, Turkey (1994). At SF STATE, she teaches courses in IR theory, migration and transnationalism, and the IR capstone thesis seminar. Her course Muslim Societies in Transnational Perspectives is part of the MEIS core. 
Prof. Ellis' research interests include identity formation within the Muslim communities of the Balkans, and identity and migration in Southeast Europe, with an emphasis on regional Albanian and Turkish populations. Her findings are published in numerous articles and books. In her first book, Shadow Genealogies: Memory and Identity among Urban Muslims in Macedonia (East European Monographs 2003), she showed the flexibility of urban members of Muslim communities in the Balkans in creating new Muslim identities amongst violence and socio-economic change. This book was subsequently translated and published in Albanian. Her second book, Catapulted: Youth Migration and the Making of a Skilled Young Albanian Diaspora (East European Monographs 2013) is a longitudinal study of young academically-promising Albanians displaced from the Balkans to show that identity, mobility, and achievement are fundamentally connected. She has published her findings in articles in Balkanistica Journal of the South European Studies Association, Journal of Management Development, and International Studies Quarterly, and has presented her work on identity and migration at the Center for Russian, East European, and Eurasian Studies at Stanford University and the Institute of Slavic, East European and Eurasian Studies at the University of California at Berkeley.
She serves as a National Boren Scholarship panelist for the Middle East and South Asia and is a member of EWIC Women in Islam and US Institute of Peace Scholars. At SFSU, she is faculty advisor to The International Relations Journal, a yearly publication of the IR Department, as well as to the Turkish Student Association.