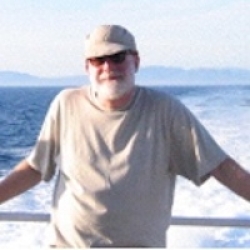 Department of Jewish Studies
Email: fastren@sfsu.edu
Location: Humanities Building, Room 418
Fred Astren is professor in the Department of Jewish Studies at San Francisco State University. He received his Ph.D. in Near Eastern Studies and his M.A. in Arabic from the University of California at Berkeley. Areas of research include minority/sectarian history and sacred history in the Mediterranean Middle Ages, with special focus on Jewish history under Islam, Jewish-Muslim relations, and the Karaite Jewish sect. He is currently writing a book on Jews in the Mediterranean of the early Middle Ages.
In print or forthcoming are articles on Jews and the medieval Muslim conquests, the representation of minority religion in the medieval Islamic world, the influence of Islam on Karaite Judaism, Karaism and the Dead Sea Scrolls, death rituals in Judaism and Islam, and biblical constructions of British sacred history. Books include: The Jewish Printed Book in India: Imprints of the Blumenthal Rare Book and Manuscript Library, The Judah L. Magnes Museum, Berkeley (1992); Judaism and Islam: Boundaries, Interaction, and Communication (with co-editors, Benjamin Hary and John L. Hayes), (E.J. Brill. Leiden, The Netherlands, 2000); and Karaite Judaism and Historical Understanding (University of South Carolina Press, 2004), whose manuscript won an award from the Koret Jewish Publications Program in 2000.
Prof. Astren is active in such organizations as the American Academy of Religion, the American Historical Association, the American Oriental Society, the Association for Jewish Studies, the Middle East Studies Association, the Society for Biblical Literature, and the Western Jewish Studies Association. He is on the advisory and editorial committee of The Mediterranean Seminar. Astren participates in public speaking and community teaching throughout Northern California.