SF State Students share their experience of the Middle East and Islamic Studies Program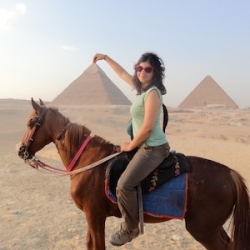 Maya Shweiky
"My experience with SF State's MEIS program has been phenomenal. Among other courses, I took four semesters of Arabic and loved it. Prof. Vivrette combined fun classroom exercises with creative group projects and clear, concise lectures. With the classroom culture exposure, I felt very prepared when I decided to travel throughout the MENA region. With more and more classes being offered, I couldn't be more grateful for SF State's up-and-coming MEIS program!"
— Maya Shweiky, B.A. in Philosophy '12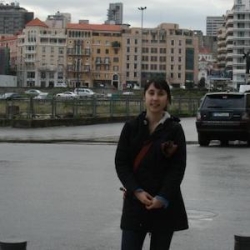 Liz Matsushita
"When my paper was accepted at a conference at the American University of Beirut in Lebanon, I was definitely a bit daunted at the prospect of traveling to the Middle East for the first time alone. But the semesters I spent taking Arabic at SF State really helped prepare me. I was able to read signs, converse with people on the street, and basically find my way around — which sounds small, but it felt like a huge accomplishment!" 
— Liz Matsushita, M.A. in World History '11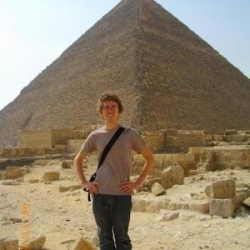 Logan David Siler
"San Francisco State's MEIS department gave me an incredible opportunity to dive into the various facets of Middle Eastern and Islamic culture. Not only did the faculty deepen my understanding of Islamic history and philosophy, as well as the Arabic language, but they supported my going to Egypt to study Arabic for the summer. Without MEIS, I wouldn't have had the chance to ground my understanding of the Middle East in real-life. During my time in Egypt, I was able to make friends, practice the language lessons I had learned, and see the remnants of history surround me. Truly an incomparable experience."
— Logan David Siler, B.A. in History & Minor in MEIS '11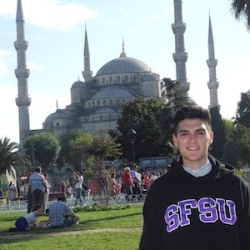 Eduardo Gonzalez
"Koç University is one of the most prestigious schools in Turkey, which prides itself on its small classroom sizes, usually ranging from 15-40 students. The main campus is located near the top of a mountain on Istanbul's European side. The stunning view surrounding the university shows an abundance of treetops, with the Bosporus Sea off in the distance. The commute to visit the 'Old City' Istanbul or Taksim Square requires a few shuttles and at least an hour's time. Fortunately, the University does a good job in providing these methods of transportation. My courses in Turkish Language, Culture and History here, as well as the Ethnicity and Nationalism and International Migration in a Global World courses, count towards my major and minor requirements. SF State's MEIS program is supporting my specific interests in this area of the world, which in turn is providing me with a unique kind study abroad experience." 
— Eduardo Gonzalez, B.A. in Political Science and International Relations & MEIS Minor '15
Dustin Lockwood
"During my time at SF State, I went to study abroad in Ghana, and the classes I took there on Islam in Africa counted towards my minor in MEIS. Ghana is a fascinating country with a mixture of many religions and ethnicities. The MEIS minor provided me with an in-depth understanding of the complex cultural, social, artistic, political, and economic histories of "the Islamic World," and I was able to see for myself how African Islam fit into the bigger picture. (And by the way, a major perk of studying abroad in Ghana was that it was cheaper than living in San  Francisco, so I actually saved money to travel around West and East Africa.) Overall, I consider my experience with the MEIS minor to have been extremely valuable. I wish I could have made it my third major!"
— Dustin Lockwood, B.A. in Africana Studies and Anthropology & MEIS Minor '12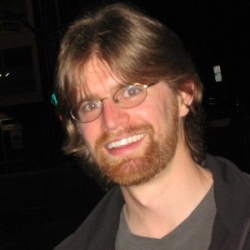 Derek Raymond
"The SF State MEIS Minor is an excellent complement to any major in the social sciences, and worthwhile for anyone wanting a clearer perspective on the black hole that is the "Middle East." There is so much to learn that does not get through the fog of misinformation commonly available here in the USA, making programs like this all the more important for our generation."
— Derek Raymond, B.A. in Anthropology & MEIS Minor '11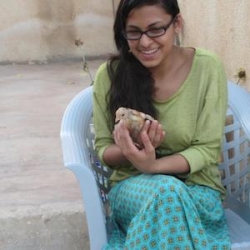 Nora Elmeligy
"Countries in the Middle East & North Africa (MENA) are experiencing landmark moments in history right now, many of which we (in the U.S.) are deeply invested in. It behooves us all to have some understanding of the cultures, both here and abroad, and we are blessed to have a program at SF State to help us contextualize our role in these world-changing developments. Not to mention the incredible Arabic program! Our Arabic program provided me with the skills to obtain a full scholarship for a summer of Arabic study in Jordan — a truly life-changing opportunity. After traveling and applying my education, I realize that the MEIS program as a whole gave me the knowledge and tools necessary to meaningfully engage with Jordanian culture. This program opened many doors for me, and provided a caring staff and plentiful resources to help me walk through those doors. Theres no better time to take these classes than now."
— Nora Elmeligy, B.A. in Broadcast and Electronic Communication Arts & MEIS Minor '13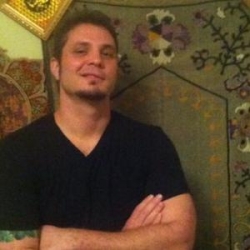 Essa Wade
"The subject of the Middle East and Islam has always been very integral to my life and upbringing. I also grew an appreciation for classical Persian poetry and language after I graduated High School. When I first started community college, my goal was to eventually transfer to a school where I could get a degree in Middle Eastern and Islamic Studies, and also study Persian. The MEIS and Persian programs at SF State have fulfilled both of my dreams to one day obtain degrees in both subjects."
— Essa Wade, B.A. in Anthropology & MEIS and Persian Minors '14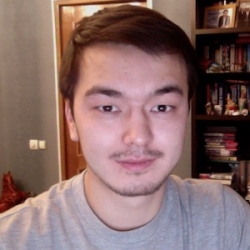 Doszhan Uzakbeyev
"I'm an international student from Kazakhstan. My major at SF State was Economics and my minor was Middle Eastern and Islamic Studies. When I decided to study MEIS, I didn't look for any connections to economics, but later on found out that the region's economic growth and oil reserves directly influence the world economy. Moreover, through MEIS I found out that Islam has its own economic theories and rules. When I graduated I was very glad that I took MEIS as my minor, because after this program I felt that I gained a lot knowledge about the region and the culture."
— Doszhan Uzakbeyev, B.A. in Economics & MEIS Minor '11