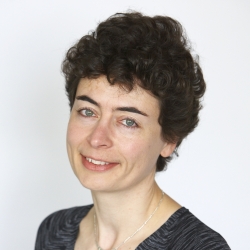 International Relations
Phone: (415) 405-2468
Email: lvolk@sfsu.edu
Location: HUM 576
Lucia Volk obtained her Ph.D. in Middle Eastern Studies with a concentration in Anthropology from Harvard University. She also holds an M.A. in Arab Studies from Georgetown University's School of Foreign Service and a BA in International Relations from Stanford. Her Ph.D. dissertation focused on the processes of social and cultural reconstruction after Lebanon's 16-year-long civil war.
Subsequent research in Lebanon focused on public sites of memory and their role in legitimizing a particular national narrative of religious co-existence. Her book Memorials and Martyrs in Modern Lebanon appeared in 2010 with Indiana University Press. She has further published on the topic of politics of memory in the International Journal of Middle East Studies, the Arab Studies Journal, the Bulletin d'Archéologie et d'Architecture Libanaises (BAAL), and Middle Eastern Studies. Moreover, she is the editor and author of The Middle East in the World: An Introduction (Routledge 2015). Locally, Prof. Volk conducted research among Yemeni Muslims who live in San Francisco's Tenderloin neighborhood focusing on issues of health and well-being in this marginal community within the larger bay area Arab community. Some of her research findings are published in the Medical Anthropology Quarterly (MAQ). Together with the former executive director of the San Francisco Arab Cultural and Community Center, Sally al-Daher, she co-authored a report based on data from the Center's Health Survey, titled Living Healthier Lives in the Diaspora.  Prof. Volk's current research focuses on Arab migrants and refugees in Germany. Some of her findings are published in the co-edited Un-Settling Middle Eastern Refugees: Regimes of Exclusion and Inclusion in the Middle East, Europe, and North America (Berghahn Books 2021) and in a special issue (guest-edited with Prof. Inhorn) of Anthropology of the Middle East.
Prof. Volk was co-PI of a Department of Education-funded grant to expand the Middle East and Islamic Studies program on campus, and obtained a grant from the Institute for Turkish Studies, Washington, DC, to initiate Turkish Studies at SF State, which has unfortunately been cut due to budgetary reasons. She has presented her research at many national and international conferences, workshops and colloquia.
An accomplished teacher, Prof. Volk received San Francisco State University's Distinguished Faculty Award for Excellence in Teaching in 2016, and one year later, Prof. Volk was recognized by the Middle East Studies Association (MESA) in Washington D.C. with their Undergraduate Education Award.