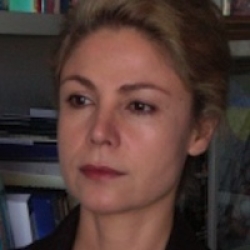 Mitra Ara
Associate Professor
Department of Modern Languages and Literatures; Founding Director, Persian Studies Program
Email: mitraara@sfsu.edu
Location: Humanities Building, Room 347
Mitra Ara is associate professor and founding director of the Persian Studies Program in the Department of Modern Languages and Literatures and the Middle East Studies Program at San Francisco State University. She received her Ph.D. in Asian Studies from the University of California, Berkeley with a concentration on the religions and languages of West Asia. She holds a B.A. in Religious Studies, and an MA in South Asia Studies from UCB. Areas of research include Indo-Iranians peoples, mythology, cosmology, and schatology in world religions, and religious practices in Iran, including the traditions of minority communities. 
Professor Ara is the author of Eschatology in the Indo-Iranian Traditions: The Genesis and Transformation of a Doctrine; A Lexicon of the Persian Language of Shiraz; The New Persian Writing System; and The Metamorphosis of Nothingness, in addition to various articles, presentations, public speaking, and community teaching.
By establishing the first Persian Studies Minor program in the entire California State University system, Dr. Ara hopes to provide a uniquely designed resource for understanding, studying and appreciating Persian cultural heritage. This minor program allows students and faculty to explore Persian history, language, literature, music, arts, and culture in all its manifestations, and expose students to a broadly defined vision that spans and includes the diverse geographic and the linguistic landscape of both historic and modern Persian cultures, including Afghanistan, Iran and Tajikistan.
For additional information, please visit the Persian Program on the Modern Languages and Literatures website.