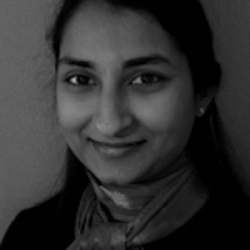 Santhi Kavuri-Bauer
Professor
School of Art
Phone: (415) 338-6511
Email: santhi@sfsu.edu
Location: Fine Arts Building, Room 266
Santhi Kavuri-Bauer is a Professor at the School of Art. She received her Ph.D. in Art from the University of California, Los Angeles. Her scholarly research focuses on the preservation and representation of South Asian architectural monuments, and the implications of these activities on the construction of social identities, national memory, and political protest. More broadly, her research focuses on issues of artistic agency, the intersection of modernist aesthetics in the colonial and postcolonial world, and the visual culture of contemporary Asia. Her experience in research, teaching, and museum work strengthen my commitment to innovative instruction and scholarly investigation in the fields of South Asian visual culture, colonial and postcolonial cultural theory, Contemporary Asian Art, Asian American Art, and Islamic art and architecture.
Her current research deals with the modern spatial history of Mughal monuments. She argues that these Mughal sites, built between the 16th and 17th centuries, have repeatedly been produced as social spaces in which Indian nationhood was enacted, or its very possibility contested at different junctures in modern Indian history. The Mughal monument provides a unique case study of built environments as social spaces impacting the construction and contestation of modern Indian national identity. Moreover, her examination argues for a more critical and interdisciplinary approach to the study of India's architectural monuments as local, national, and global spaces of social ordering and identity formation. Her book Monumental Matters: The Power, Subjectivity, and Space of India's Mughal Architecture appeared in 2011 with Duke University Press.
In her current position at San Francisco State University, she is teaching and developing courses on the arts of Asia (India, China and Japan), the Islamic world, as well as on Asian American Art. Her classes are presented as thematic studies that focus on the relationship of art to the social, political and religious contexts that lend it meaning. In addition to her teaching experience, she brings with her a profound interest in introducing undergraduates at SF State to new ways of seeing and understanding visual culture, and in advising future graduate students in their own quests for investigative strategies vis-à-vis art and art historical study.